If I can turn my life around so can you.
– Germana
You… like me, want the most out of life and of course we all have our fair share of life's trials and tribulations. Mine have included a challenging childhood, an eating disorder, addiction, being a single mother on welfare, living with chronic back pain, being challenged with low self-esteem and a lack of confidence that resulted in feelings of self-loathing and pain.
If I can turn my life around so can you.
Thankfully, I was gifted with people who gave me support and permission to believe in myself. They gave me the courage to strive for more than mediocrity. I think of these people as earth-bound angels.
I have found great satisfaction in helping others be the best that they can be. I have devoted my life to becoming an expert in the field of health and wellness with a focus on mind, body health, and fitness.
Imagine achieving your personal best… What do you look like? How do you feel in your new body? Notice how this is different from what you're living now?
Now that you've decided to move toward your personal best, start to say YES to yourself and call me.
Yours in health,
Germana
"Life is not easy for any of us. But what of that? We must have perseverance and above all confidence in ourselves. We must believe that we are gifted for something and that this thing must be attained."
– Marie Curie
CREDENTIALS & CERTIFICATIONS
B.C.R.P.A. Certified Supervisor of Personal Trainers
B.C.R.P.A. Certified Personal Trainer
B.C.R.P.A Certified Exercise Instructor
B.C.R.P.A. Certified Supervisor of Trainers & Fitness Instructors
A.C.E. Certified Personal Trainer
A.C.E. Certified Group Fitness Instructor
Certified Jazzercise Instructor
Certified Stability Ball Instructor
Hatha Yoga Instructor
Certified Clinical Hypnotherapist
Licensed Practitioner Neuro Linguistics Programming
Western Canadian Bodybuilding Champion (two years consecutive)
Black belt in Goju Rye Karate
Kickboxing and Boxing Competitor
Rehabilitation Trainer and contractor for ICBC 1994-1996
Additional qualifications (Back specific)
Trained in Functional Rehabilitation for back issues/ concerns by Dr. Stuart McGill backfitpro.com
Certified Nutritional Therapist 2013 NTA.com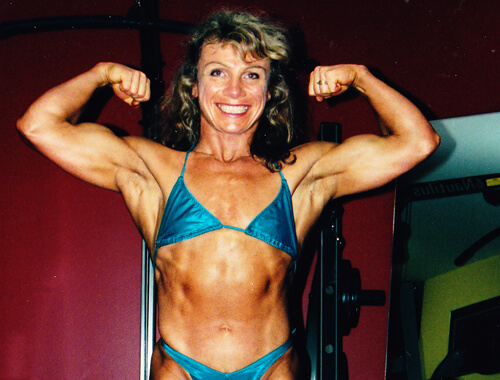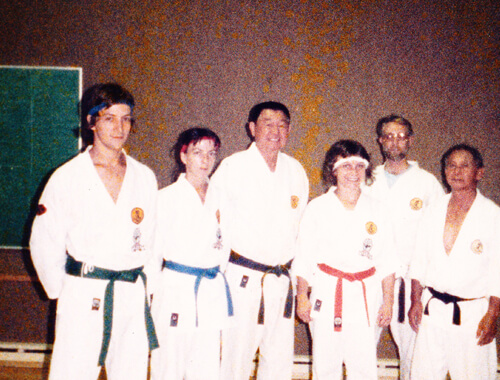 1983 in the Bruce Lee Training Camp. That's me with the red belt.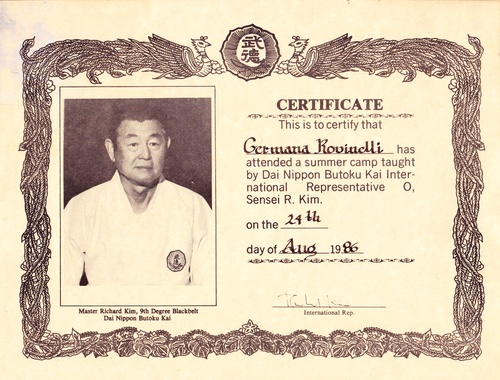 I was very proud to obtain this!
NUTRITIONAL THERAPY – PHILOSOPHY
That the myriad of health problems that plague modern society result from weaknesses in the body's physiological foundations as a result of poor nutrition. As an education organization, NTA is dedicated to helping individuals and healthcare professionals understand and reverse the tragic and unsuspected effects of the modern diet on their patients and clients. Throughout our training programs and seminars, students access a wide range of education tools and connect nationally with other practitioners in the healing arts.
"Our deepest fear is not that we are inadequate. Our deepest fear is that we are powerful beyond measure. It is our light, not our darkness that most frightens us. We ask ourselves, who am I to be brilliant, gorgeous, talented, fabulous? Actually, who are you not to be? You are a child of God. Your playing small does not serve the world. There is nothing enlightened about shrinking so that other people won't feel insecure around you. We are all meant to shine, as children do. We were born to make manifest the glory of God that is within us. It's not just in some of us; it's in everyone. And as we let our own light shine, we unconsciously give other people permission to do the same. As we are liberated from our own fear, our presence automatically liberates others."

– Marianne Williamson
QUALIFICATIONS: BACK PAIN SPECIFIC
Trained with Dr. Stuart McGill, Ph D
Current, scientifically proven evidence-based training applications.
Do you want to know what puts unhealthy stress on the spine and its discs and what doesn't?
You will get a clear understanding of how to create a solid foundation for the spine's muscles to carry your body correctly, allowing for a progressive recovery program from painful living to pain free living. Discover the recovery experience using this wealth of current information.
All exercises are spine-sparing (they do not aggravate a compromised back) You will be taught how to follow correct motor patterns, groove patterns and motion patterns that allow for recovery from back related pain. Discover a higher quality of life.
Trained with Dr. Jerome Fryer, BSc DC
Dr. Fryer has taken the science of disc health and degeneration and through his research and studies proven to show how to decompress compressed discs. He has taught me how to share this wealth of knowledge with my clients.
I transfer the skills of Disc decompression exercises to my clients and provide them with suitable safe exercises and lifestyle plans to allow them to recover from their back and disc problems.
With the added support and guidance of Dr Fryer's model and direction, I have the tools to help patience understand why they need to update their exercise program and their lifestyle in general.